Nowadays, North Macedonia is a country with low prevalence and concentrated epidemic of HIV. However, the number of cases is increasing, the percentage of people, living with HIV who are aware of their status, is around 60 %, which is way below the goal set by the United Nations. There is still no research on stigma index, but if one is to evaluate the media reporting on the matter of HIV, we can conclude that there is a high level of stigma and discrimination as well. What to do if your status has been revealed and should you react or face it alone in silence?
Tittle-tattle with a social impact
A person employed in one of the university clinics in the country did an HIV test in the laboratory, where he got a positive result. The test result of the HIV test must be confirmed and assessed by a doctor, however very shortly after that, he realized that the information about his HIV status has been shared with most of his colleagues. It was spread around the clinic as a gossip and violated his right to privacy. What's more, positive results from viral markers had already been entered into the medical system, although, according to Protocol until confirmatory tests were done at the University Clinic for Infectious Diseases and Febrile Conditions/Institute of Public Health, the results cannot be considered confirmed and no diagnosis must be entered in the patient's medical record.
Flagrant violation of privacy
Some of his colleagues immediately changed their attitude towards him, openly letting him know that they no longer wanted to work with him, because they were afraid that he would transmit the virus to them somehow and that he was a danger. He faced rejection from certain colleagues, humiliation and avoidance. He was extremely surprised that as medical staff, his colleagues were not aware of the way of the HIV transmission. He immediately spoke openly with some of them and tried to explain that there is absolutely no way that it can be transmitted through air, touch, use on the same toilet, cutlery, equipment, etc. And that there really is no potential danger of them getting HIV just because they work in the same workplace, nor that there is any danger in relation to patients receiving health services from his side. His efforts were unsuccessful and certain colleagues continued to behave rudely and humiliatingly with the intention of forcing him to quit his job.
The patient's rights were also violated in relation to the release of a professional secret, that is, even though he was an employee, he, as a patient, requested a health service: HIV testing within the Clinic, which violated his rights to health care and he faced discrimination as well. In his case, the results of the HIV test were shared with almost all of his colleagues, which is a flagrant violation of privacy and the duty of professional secrecy by the doctor who processed his HIV test data. And all this, because it is about the HIV (a type of health condition about which his colleagues apparently have no knowledge, only prejudices) they assumed that once he was HIV positive, he must be a homosexual as well.
Immediate REAction and positive outcome
The Association for the support of People Living with HIV "Stronger Together", Skopje, heard about this case and decided to take a control on it. Its representatives prepared a letter, that was sent to the Director of the clinic, who was understanding and very professional. After, some of the colleagues were called to a meeting with him, where they were informed about all the aspects mentioned in the letter (rights of workers, the obligation of non-discrimination in the workspace and the modern aspects of the HIV, including the undetectability = untransmittable).
As a result of the letter and the director's actions, after one month of returning to the work environment, the person reported no stigma and unequal treatment from colleagues and employers. The client still works in the university clinic.
Lawyer's comments
1. Is a disclosure of status a crime in the North Macedonia? What punishment would people receive if the victim would go to the court?
– The Criminal Code does not contain a specific provision that would constitute disclosing an HIV-status a crime. However, depending on the person who have disclosed the status, that person can be charged for Abuse of personal data, pursuant to Article 149 of the Criminal Code, or Unauthorized disclosure of professional secret, pursuant to Article 150 of the Criminal Code. Depending on the circumstances and the crime, the punishment is either monetary, a prison sentence of one year or three years. The disclosure of personal data, specifically medical data, is also prohibited with the Law on protection of rights of patients.
2. What are restriction for people with HIV regarding professions regarding the North Macedonia legislation? Would this person be able to continue working in laboratory?
– There are no restrictions for people with HIV regarding professions in the Republic of North Macedonia. As a matter of fact, the Law on Labor Relations and the Law on Preventing and the Protection from Discrimination prohibits discrimination based on a person's health condition. However, all candidates for work positions and employees must disclose health conditions that might prevent them or limit them in completing their work tasks. Although there are no cases so far regarding this provision and employees who are living with HIV, this provision might be misused by employers with respect to HIV-status of employees or potential employees. Notwithstanding that, it would be unproportioned invasion of privacy, and by default unlawful, for employers to use this provision and ask employees or future employees to disclose their status. Speaking about the continuation of work – yes, the client can continue working in the laboratory and still is.
Letter to the Director of the Clinic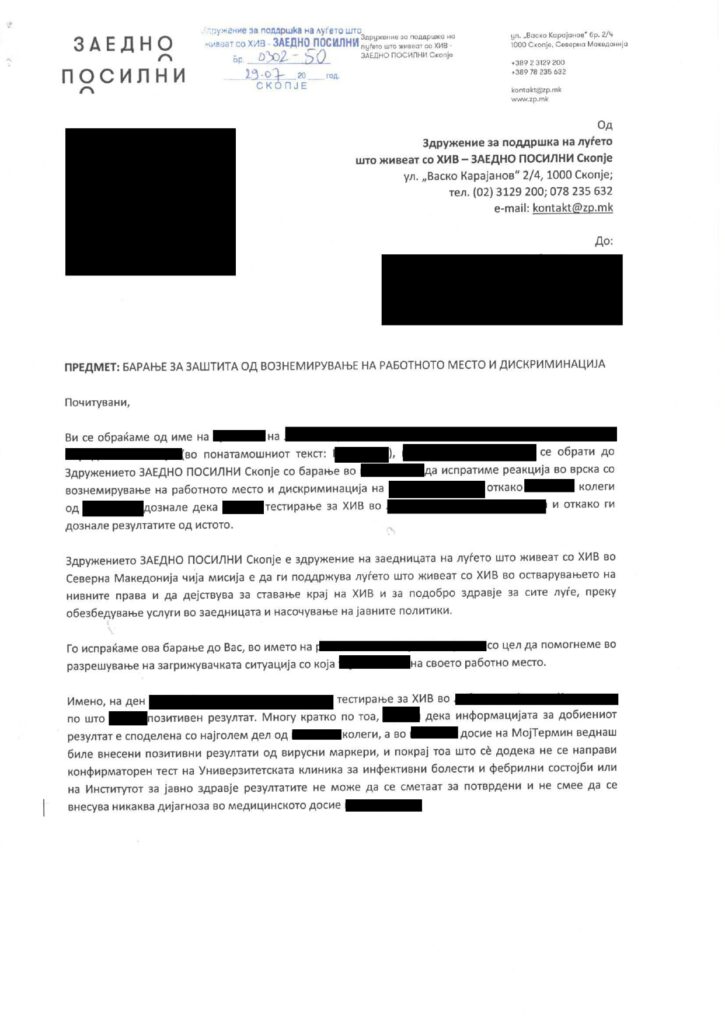 ---
Also read:
Disclosure of the patient's HIV status