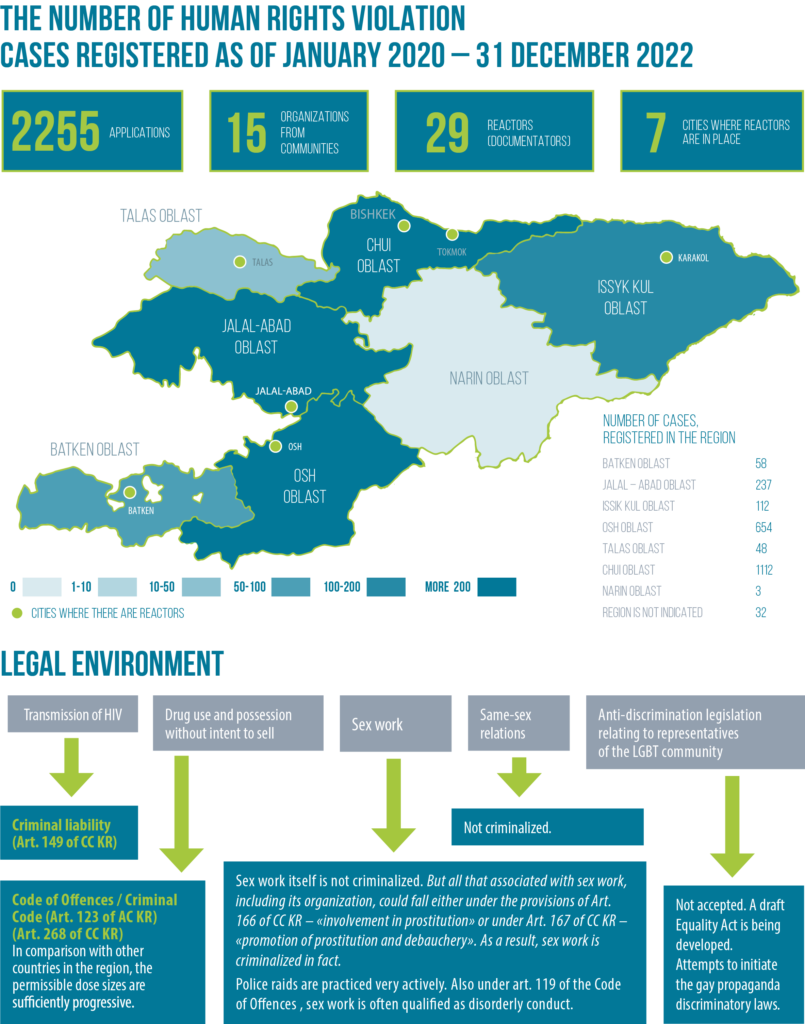 Background
Kyrgyzstan, like a number of other countries of Eastern Europe and Central Asia, belongs to countries with a lower middle-income level, while at the same time high activity of civil society, including nongovernmental organizations involved in the work of HIV prevention, treatment and care projects with the support of international donors.
Thanks to these factors, Kyrgyzstan became the first country in the EECA region, in which all nine HIV prevention measures among people who inject drugs, including in prisons, were enshrined at the legislative level. Also in Kyrgyzstan there is no
direct legal responsibility for sex work. There are no direct or indirect prohibitions regarding LGBT people. Reforms of criminal and administrative legislation on drug control are underway. In 2019, a new Criminal Code of the Kyrgyz Republic entered
into force, which expanded the list of punishments for actions related to drugs without the purpose of selling, including fines.
Implementators
REAct is being implemented in partnership between the Partnership Network Association and the Soros Foundation-Kyrgyzstan within the framework of the Street Lawyers projects, which are being implemented within the framework of the Global Fund/UNDP country grant and the regional project Sustainability of Services for Key Groups in Eastern Europe and Central Asia (2019-2021). Cases are documented by 15 NGOs that participate in the Street Lawyers project and are located in different cities and regions of the country.
The Partnership Network Association coordinates the work of the system, and organizes advocacy events and training.
Soros Foundation-Kyrgyzstan coordinates the work of REActors, provides legal assistance to PLHIV and key groups in criminal and civil cases related to discrimination issues, analyzes registered cases, and deepens REActors' knowledge and competencies in the field of human rights.
Alliance for Public Health provides technical support for maintaining the base, analyzing the collected information and forming strategic goals for advocacy.
REActors
29 REActors represent 15 NGOs located in different cities of the country in 7 regions of the country. REActor travel to cities and towns of the region in order to collect information and provide services to clients.
A REActor in Kyrgyzstan is a community representative, an NGO employee who, in addition to providing services and outreach work, is a "street lawyer" and documents cases of rights violations when community members turn to him with complaints. The REActor can advise, provide psychological support and provide primary legal advice, help with the preparation of primary documentation for solving the case.