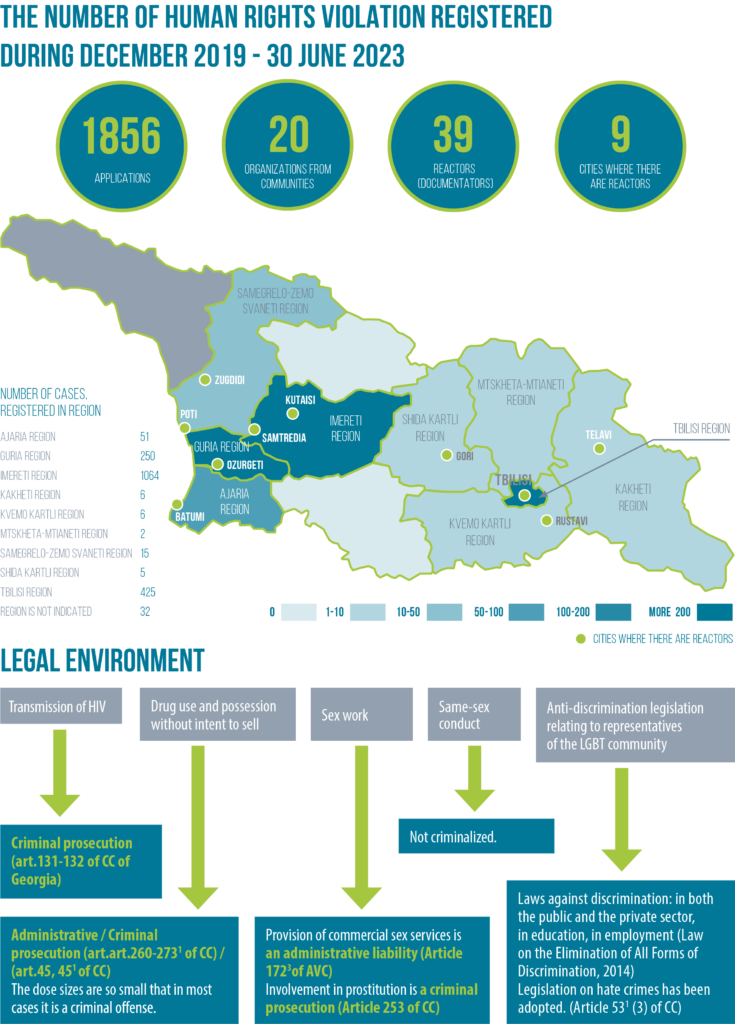 Background
Georgia remains a country with a high degree of stigma and criminalization of key populations. People who use drugs, sex workers and people living with HIV are subject to laws that explicitly criminalize actions or omissions related to their personality or chronic illness.
Implementators
Georgian Harm Reduction Network (GHRN) is the main implementing partner, which works in partnership with 20 other nongovernmental organizations to provide a wide range of services to key populations, including legal services and services for women.
Alliance for Public Health provides technical support for maintaining the database, analyzing the collected information and developing strategic goals for advocacy.
REActors
39 REActors document cases, one for each organization. It was decided to carry out the pilot launch of REAct on the basis of the city of Tbilisi with a planned further expansion to other regions in the middle of 2020. By the end of 2021, REAct project to 9 more cities: Kutaisi, Samtredia, Gori, Poti, Zugdidi, Telavi, Ozergeti, Batumi, Rustavi, Tbilisi.
The REActor in Georgia is an outreach worker, case manager, social worker of an NGO providing services to key groups. Some REActors are lawyers or paralegals, cases that require more professional legal assistance may be referred to them. Information about violations is communicated to the REActors directly by victims during the receipt of various services (testing for HIV, hepatitis C, hepatitis B, syphilis; syringe exchange; condom distribution; medical services; PrEP; legal services, etc.). Also, REActors monitor closed community groups in social networks in order to reach victims of human rights violations.