The prevalence of violence against women and girls in all its forms is similar to a pandemic, on par with HIV and COVID-19. According to the World Health Organization, one in three women experience intimate partner violence. On November 25, the Day for the Elimination of Violence against Women, the International Campaign "16 Days of Activism against Gender-Based Violence" begins and will last until December 10 – Human Rights Day.
As part of the campaign, REAct is organizing a series of webinars for Eastern, South-Eastern Europe and Central Asia to support, protect and prevent violence against women and girls, especially from vulnerable groups.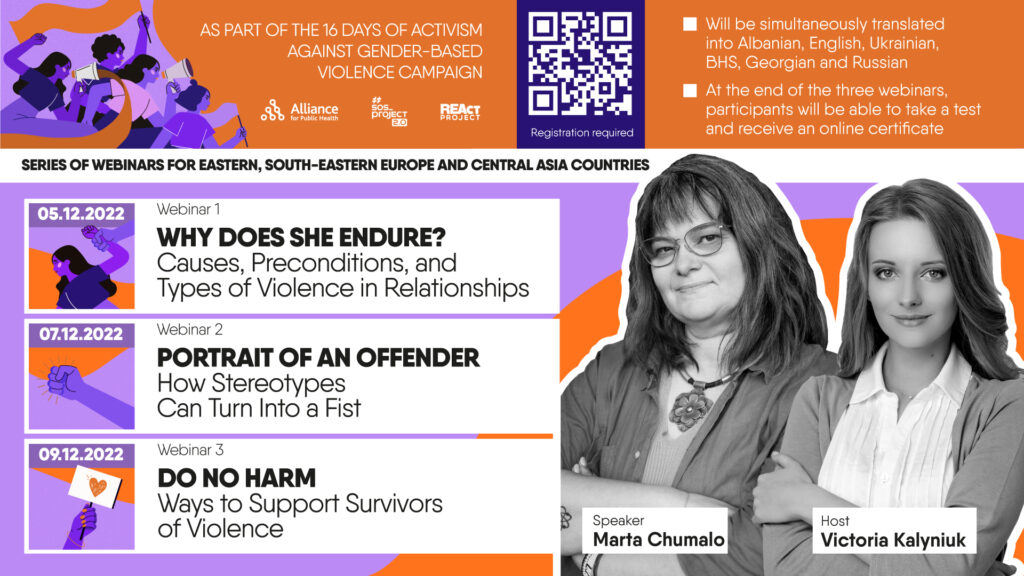 Stories of brave women who have found the strength to defend their rights and resist violence will also be published daily. Let their stories inspire women from Ukraine, Georgia, Tajikistan, Uzbekistan, Kyrgyzstan, Kazakhstan not to be abused by no one.
---
Read also:
Online course on drug decriminalization launched in Russian
REAct (Rights – Evidence – Actions): Course on using the tool
You may be interested in:
Hotline Analysis Report: Domestic and other forms of violence against women living with HIV and women in key populations during the COVID-19 pandemic