Under the Global Fund grant, UNDP's "Street Lawyers" project is defending the rights of key population groups, people living with HIV and TB patients on an innovative, peer-to-peer basis led by local NGOs. Stories of successful responses were published on the UNDP information resource in Kyrgyzstan. Read the original article or check it out in the publication below.
People living with HIV, tuberculosis patients, and key population groups* face many problems other than health issues. Problems that keep them from receiving quality and timely prevention, diagnosis, treatment, and care. Problems that hinder the fights against TB and HIV worldwide.
To overcome these problems and make it possible to control HIV and TB in Kyrgyzstan, UNDP, together with the Global Fund, is financing and coordinating a legal aid project for these vulnerable groups of the population. Founded in 2016, the "Street Lawyers" project has considerably changed the game, defending the rights of many clients and giving them hope for justice.
Obtaining justice for one, giving hope to others
"People from key population groups are very vulnerable. They are scared to go somewhere and demand something. To a certain degree, they do not want to fight for their rights, because they don't believe in justice. They don't believe that someone will back them, that someone will help them, advise them. And when the rights of these people are infringed, they do not turn to state agencies. Before all, representatives of key population groups turn to service organizations," explains Ilimbek Sadykov, coordinator of the "Street Lawyers" project.
Street lawyers are trained employees of service NGOs working with key population groups, people living with HIV, and TB patients. Although most of them do not have previous legal education, thanks to constant training organized by UNDP, to their mentors, and to the lawyers involved in the project, they are able to successfully defend the rights of their clients. What is more, many of them are themselves, representatives of vulnerable communities, have first-hand experience of their client's difficulties, and are able to gain their trust. This peer-to-peer legal service has proved to be efficient over the past years.
"Before, representatives of key groups didn't trust anyone and considered that one cannot stand against the system. But when they see that their acquaintances received help, their opinion changes," says Ilimbek Sadykov. Shamil Ibragimov, executive director of the Soros-Kyrgyz Foundation, which is implementing this project for HIV communities, adds: "Beneficiaries, who have received the help of public defenders, later refer their acquaintances to street lawyers, which means that people now understand that one can, and should, fight for their rights."
Over the years, the number of clients who ask for legal aid keeps growing, as well as the number of successfully resolved cases. A case won does not only change the client's life for the better, but also shows others that there is justice, and there is a reason to claim it. People who had given up on their rights even before trying to obtain justice now believe that things can be otherwise: they turn to NGOs and street lawyers to denounce discrimination, record rights violation, and take their life back into their hands. This is essential, as legal barriers keep undermining HIV and TB control programs.
Cases ranging from administrative issues to serious rights violations
Street lawyers, or public defenders as they are also called, work with their clients on different cases, ranging from administrative issues, such as obtaining passports and benefits, to more complex rights violations, brought to court with the help of professional lawyers.
As a matter of fact, many representatives of key population groups lack basic ID documents, as a result of which they cannot obtain benefits, receive medical services, or find a job. And in many cases, they are not able to obtain these documents without help, due to difficult life situations coupled with discrimination. "I'm glad that, even without a legal education, I am able to help people. For example, we helped one person living with HIV obtain a passport. He hadn't been able to get one for many years, because he had no relatives to prove his identity. People without documents cannot appeal anywhere or receive assistance; de facto, they simply don't exist," says Elmira, a street lawyer in the city of Osh.
Since 2021, the project was also extended to TB patients, under the leadership of the National Red Crescent Society. "Many TB patients face administrative and legal issues: they don't have passports, birth certificates, and have nowhere to live. Those who do not have passports cannot receive the monthly motivational payment of 1000 soms from UNDP / Global Fund, since they cannot open a bank account. But many need this money to survive and continue taking their treatment," adds Kumarkul, who works as a public defender for TB patients.
Other administrative issues solved by public defenders include obtaining state allowances and benefits for disability or HIV, or registration, without which it is particularly difficult to find a job and make use of all civil rights. Sometimes, street lawyers also fight against violations at the medical level: for example, one patient was requested to pay for an X-Ray which should have been free. And for representatives of key communities, who are often in very difficult financial situations, every penny counts.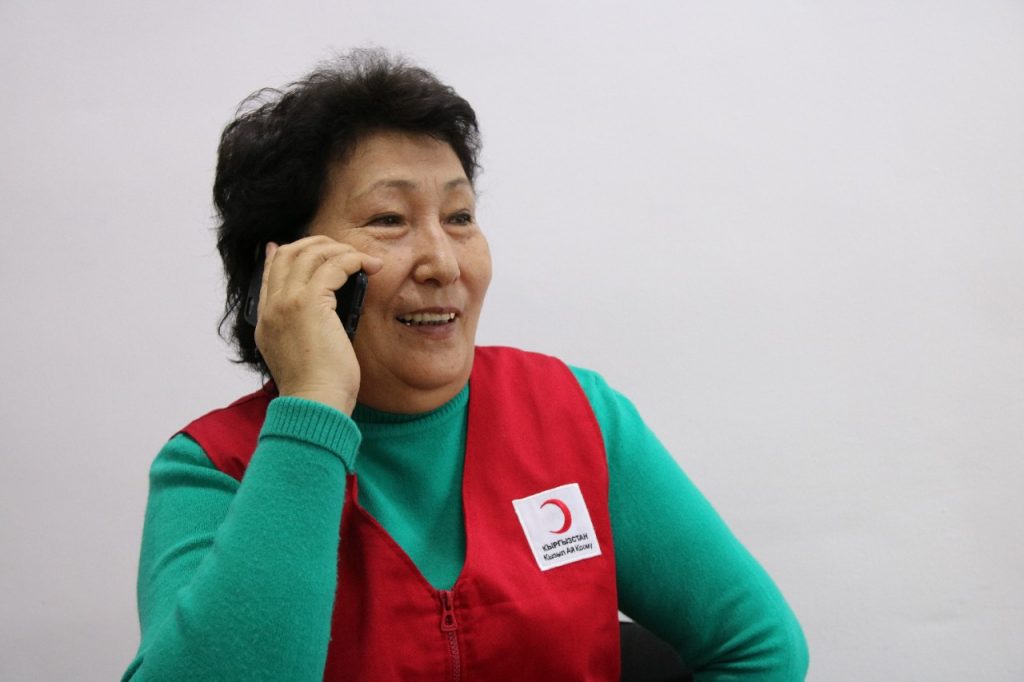 Getting their lives back together
"I understand our beneficiaries' problems and know how to tackle them. Before, when I had to deal with rights violations in regards to representatives of key groups, I looked for help and turned to lawyers. But then, I understood that I can protect my clients myself," says Ali, who works in Osh. One of the cases he remembers the most is when he helped a client obtain legal guardianship for his orphaned nephew: "One of the most memorable cases I worked on was when an HIV positive boy lost his parents, and his father's brother decided to obtain guardianship. It was problematic for him to gather all the required documents; he had been trying to do so for eight months. Then he turned to me for help. In one month, we were able to help him obtain guardianship and benefits for the child."
Street lawyers often work on cases of illegal detention as well, and do their best to have their clients freed. As they explain, their clients, in particular sex workers, people who inject drugs or ex-detainees are often charged for crimes they did not do as "easy suspects", sometimes agree to take the blame because of poverty and deprivation, or, in certain cases, see no other solution but theft to put bread on the table. For example, Olga helped free a man who had just been released from jail and detained again for the exact same charges. "I will never forget his mother's tears. We shouldn't leave people to their fate. Their life is already hard enough."
Generally speaking, representatives of key population groups are vulnerable to discrimination, rights violations, and abuse on the part of society, healthcare workers, and law enforcement agencies. But thanks to the "Street Lawyers" project, they are now less afraid to report such cases and stand up for their rights. For more complicated cases, street lawyers can turn to their mentors – professional lawyers – for help and advice, and to advocates who can take cases to court.
Documenting rights violations
One of the lawyers, Erkingul, remembers having sued a T.V. channel for having published a video of an LGBT+ person on YouTube without their consent – a video which destroyed many aspects of this person's life. "I was scared reading all of the threats in the comments. I was seriously afraid for my client's safety." Winning such cases matters not only to the client involved, but also sets precedents to avoid similar rights violations in the future.
What is more, all of these cases are registered into an electronic database called "React". "We document all cases," explains Maria, a street lawyer who has been so inspired by her participation in this project that she's decided to take up legal studies. "These documented cases are our chance to reach out to authorities, to decision-makers, and to show with facts what is the situation with the rights of key groups." Some of the cases registered in the system include clients who were not allowed to go through roadblocks for medical services during the lockdown, sex workers who were collectively beaten up and robbed, and people living with HIV set up and unjustly blamed for crimes.
"When a person is on their own, it is very hard for them to fight. But they have us. I am sure that we can make things right and, seeing this, others will also be able to obtain justice," says one of the project participants, Georgiy. Case by case, street lawyers, with the help of their mentors, professionals, NGOs and the UNDP / Global Fund project are working to ensure equal rights for vulnerable people, eliminate stigma and discrimination, and obtain social and legal justice for HIV and TB communities.
---
*Key population groups or key communities: Groups of the population at higher risk of HIV infection, including people who inject drugs, people living with HIV and their partners, men who have sex with men, sex workers, and (ex) prisoners. Most cases of HIV infection are registered within these groups, who are often socially, materially and legally vulnerable.
Statistical data and analytical reports on the documentation of rights violations and on how they were addressed are available on the REAct website.
Read more on the "Street Lawyers" project.