During the side event "The critical situation of violation of the rights of women who use drugs in Eastern Europe and Central Asia: urgent action is needed" of the 64th session of the UN Commission on Narcotic Drugs, representatives of government agencies and non-governmental organizations discussed problems and current best practices in the provision of shelter and psychosocial services for women who use drugs.

During the event, an overview of the most common types of human rights violations against representatives of a key group – women who use drugs, collected using the REAct monitoring and response system, were presented. According to the evidence recorded in 5 countries: Ukraine, Moldova, Georgia, Kyrgyzstan and Tajikistan, violations are related to: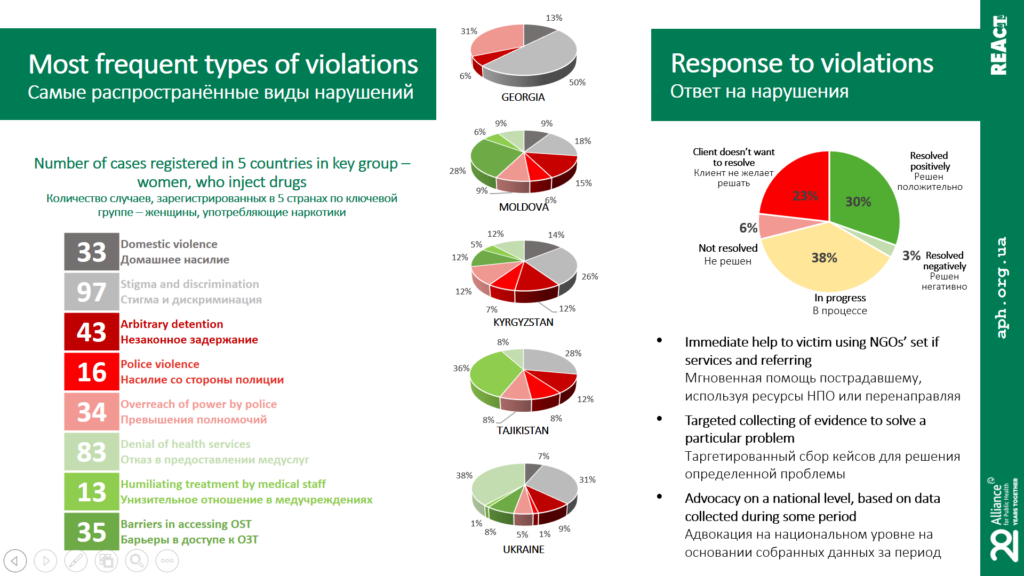 There were also recorded cases of police violence and humiliating attitudes in health care institutions. These data were presented by Victoria Kalynyuk, Regional Coordinator of REAct in Eastern Europe and Central Asia. She noted that the REAct system not only records cases of violation of the rights of key populations, but also helps to solve each case individually.
Event organizers: Альянс громадського здоров'я Alliance for Public Health и Eurasian Harm Reduction Association — EHRA
Event recording: