On October 29 and 30, 2021, a training on documenting violations of the rights of people living with HIV and members of vulnerable groups was held in Dushanbe. The participants of the training were REActors and street lawyers from all regions of the Republic of Tajikistan, who are filling in or will fill in the electronic REAct database.
All participants of the training for safety reasons passed a rapid test for COVID-19 before the training and received negative test results.
The REAct tool has been operating in Tajikistan for more than 2 years. Before the start of the project, in 2019, an introductory 4-day training was conducted with the participation of four experts from the UK, who explained the theory of human rights and the methodology of working with the database.
"The system itself had not yet been launched in the region at that time, and we could only assume at that first training how it should all work. And years later, a new training is conducted not on theory, but on real and practical lessons / cases.
The new insights were obtained as the result of joint work of developers, coordinators and documentarians. A huge amount of information was analyzed in order to bring the work to a new, more efficient level.
The new training combines not only basic knowledge of human rights in the context of key populations, but also practical advices on how to technically document violations. The participants of the training clearly saw how everything works in reality, all on real examples. " – says Victoria Kalyniuk, trainer and regional coordinator of the REAct system in the region of Eastern Europe and Central Asia.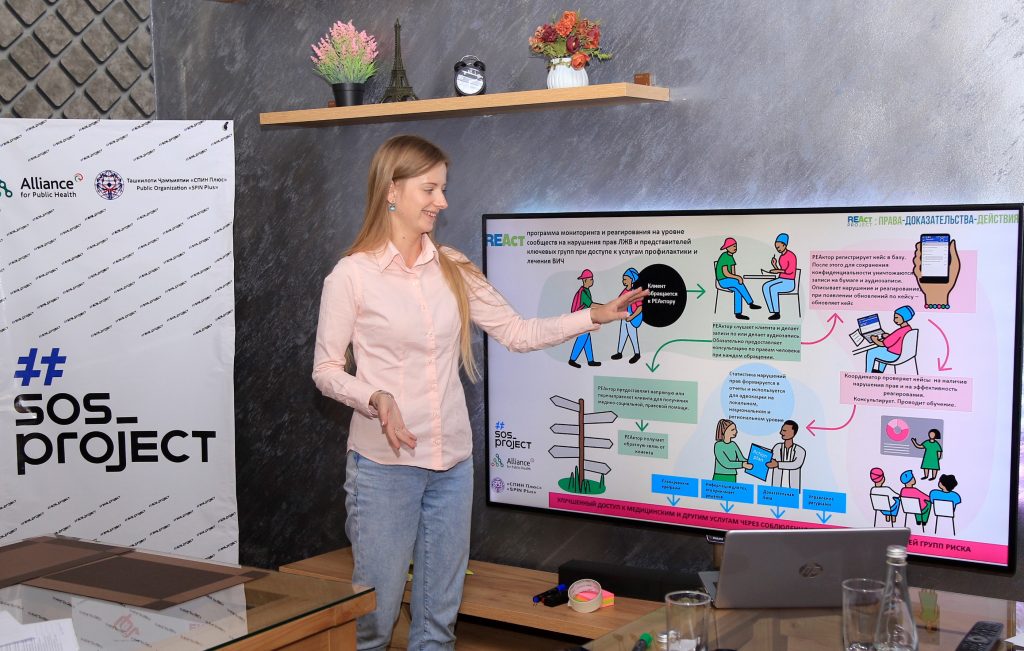 The trainer had an important task to convey complex theoretical, legal information into simple language, understandable for a non-certified lawyer. It was important to ensure that this complicated information is perceived and transmitted further to people, in order to raise awareness of their rights among clients. To this end, training materials were presented in the form of comics and cartoons so that participants could understand and communicate to clients the complex concept of human rights and state responsibility.
"It is very important that at the training the mechanism for responding to human rights violations, the procedure for actions after the case is documented, the algorithm for responding to the fact of violation based on the national legislation of the country was fine-tuned. After all, our goal is to help each client in a difficult life situation in which the client finds himself. He trusts us, and we have no right to leave him. " – says one of the training participants from Khorog.
The training program was designed in such a way to teach the project participants to collect exactly that information and evidence, which can then be used for planning programs and projects, planning financial resources, for dialogue with government agencies, for planning interventions.
"All this (ed.note: violation of rights, the role of the state) to identify, correctly document and describe in one case is a whole methodology. At first glance, you might get the feeling that we are just filling out a ready-made base of questions. But in fact, this is all much deeper, since these are true stories and these are living people who have had a difficult fate. In our work, it is very important not to succumb to emotions and impressions, "not to become limp", but to document evidence and help our clients to defend their rights "- a participant from Khujand shares her experience.
"It was important for me to give confidence to our reactors. After all, they are on the front line every day, they often risk their safety, and sometimes they themselves do not understand what more feats are done by their hands. Although they are not certified lawyers, they have a well-deserved reputation in their communities and are essentially "first aid" when someone from the community is detained or denied medical services. I am honored to help them understand the complex subject of human rights and teach them how to use the REAct tool to bring more structure to their day-to-day work and respond to violations of rights more effectively and efficiently. " – sums up the trainer of the REAct project.
---
You may be interested in:
For the first half of 2021, 165 violations were registered in Tajikistan.
Six organizations from all regions of the Republic of Tajikistan are implementing the REAct system in the country.
---
Read more about Tajikistan:
Positive marriage: in Tajikistan, HIV-positive status is an obstacle to marriage registration
Breakthrough in human rights protection in Tajikistan: court fined 20,000 somoni from husband for disclosing wife's HIV+ status